The Best Champagne Cocktail Recipes
Celebrations call for champagne cocktails - they're lively, fun, and full of happiness! They're perfect for New Year's Parties, birthdays, or any gathering that calls for a toast. If you're looking for champagne cocktail inspiration, these recipes will really excite you - they're fun, playful, and perfect for a party!
Here are a few tips for making champagne cocktails:
Classic Champagne Cocktail
The classic champagne cocktail is a timeless drink made with champagne, a sugar cube, brandy (optional), and Angostura Bitters - it can be garnished with a maraschino cherry or an orange peel.
Simple Champagne Cocktails
Champagne is incredibly versatile in cocktails. There are lots of easy, simple cocktails to make with champagne. If you're looking for something quick, try out one of these easy recipes:
Mimosa - Combine 3 parts champagne to 1 part orange juice

Kir Royale - Combine 6 ounces champagne and 1/2 ounce creme de cassis

Bellini - Combine peach puree, simple syrup, and Prosecco

Pomegranate Royale - Combine 4 ounces champagne and one ounce pomegranate liqueur (optional - top with pomegranate arils)
These are the Best Champagne Cocktail Recipes!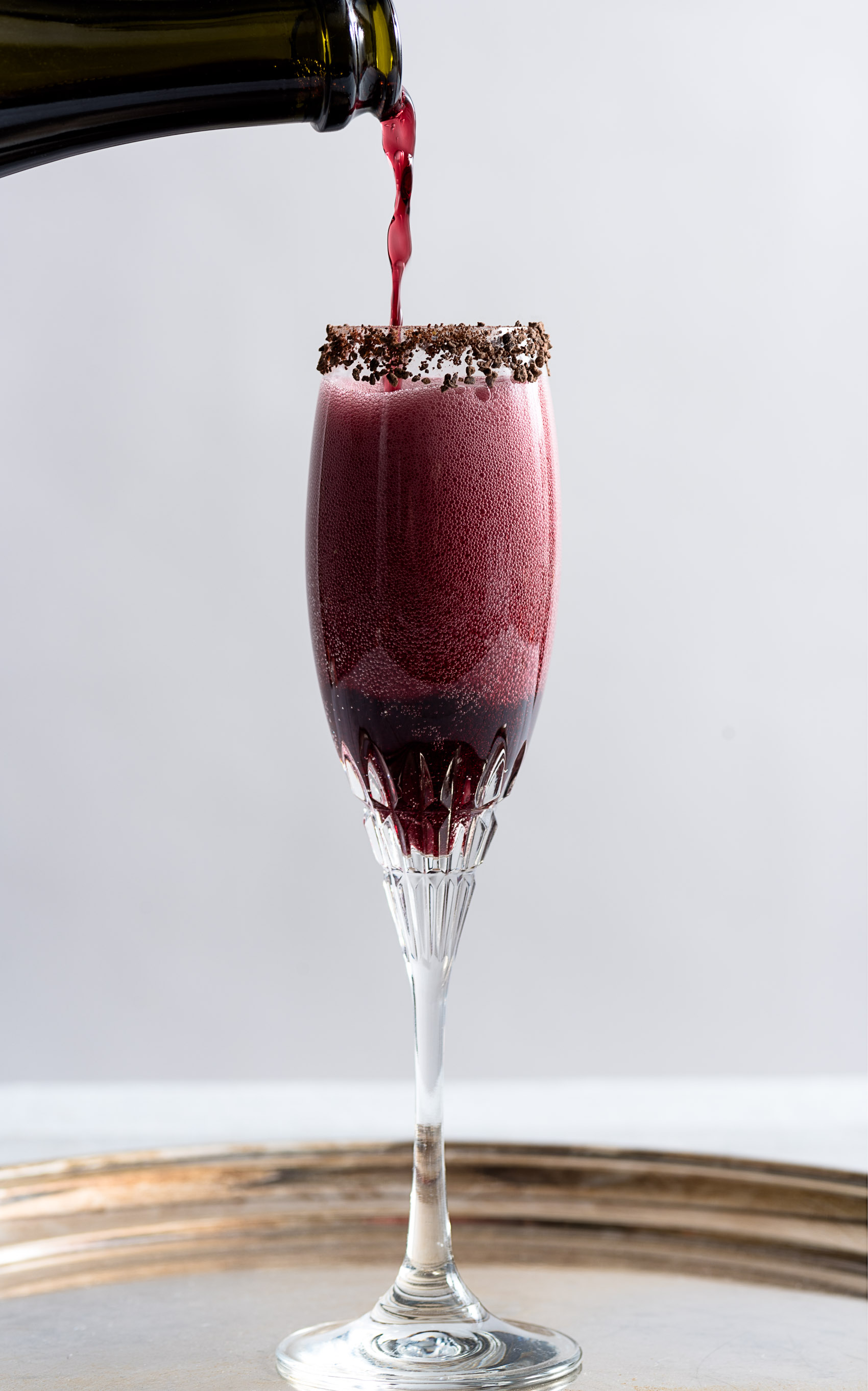 Sparkling Shiraz Cocktail with Dark Chocolate Coated Cacao Nibs from Nomageddon. Get the recipe here.
What's Difference Between Champagne & Sparkling Wine
The easy answer is that Champagne only comes from the Champagne region in France. Champagne can only be made using Chardonnay, Pinot Noir, and Pinot Meunier grapes. So in fact, all Champagne is sparkling wine, but not all sparkling wine is Champagne.
How to Tell a Good Sparkling Wine
High quality sparkling wine has three traits to look out for:
It's fresh and tastes fruity (it doesn't have to be sweet)

It should have a good amount of acid and feel strong in your mouth

It should have small bubbles - they're a sign of a good wine